HEAD OFFICE  cum  TRAINING CENTRE
called 
COMMUNITY ENRICHMENT CENTRE 
All the activities of the Community Enrichment centre such as Administrative & Training and  programmes like Women empowerment, De-addiction, Health care, Counselling & Sports are all being carried out in an asbestos shed with much difficulty and without any safety.
The Board of Trustees has felt the need for constructing a concrete building to facilitate the smooth running of the Foundation and also its effective implementation of all projects.
OLD STRUCTURE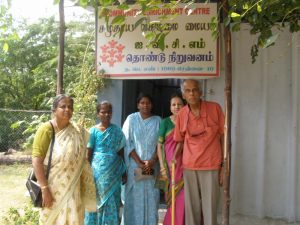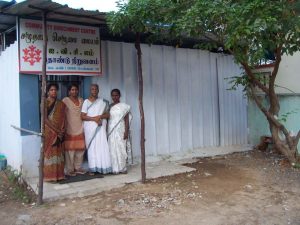 PROPOSED BUILDING  (UNDER CONSTRUCTION)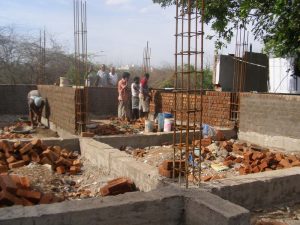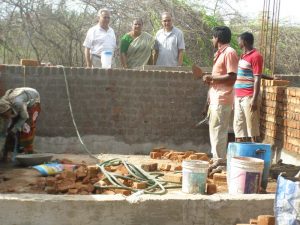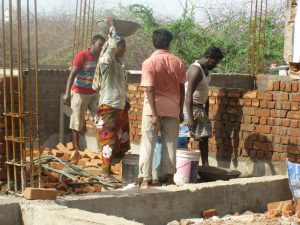 ALL SERVICES ARE RENDERED FREE OF COST TO ALL
The rough cost estimate given by a construction company is :
GROUND FLOOR :  RS.20,00,000/-
FIRST FLOOR      :  RS.15,00,000/-
TOTAL                 :  RS.35,00,000/-

 APPEAL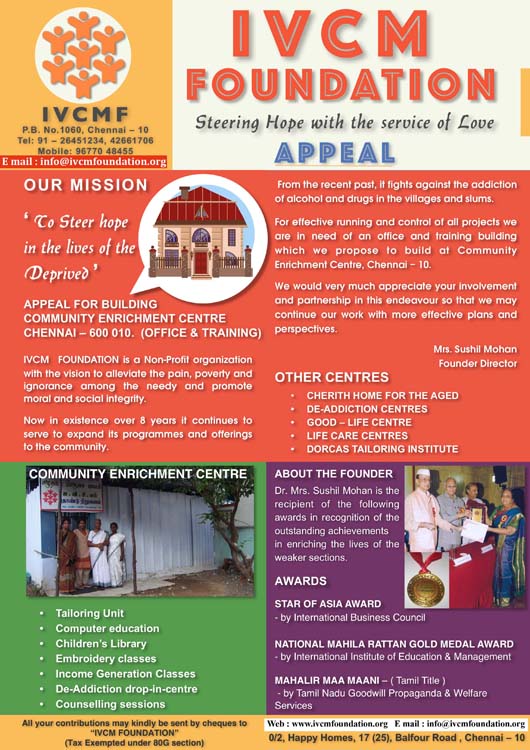 You may kindly come forward with One-time Big Donation  towards the completion of this building which has come up to the foundation level.

All donations will be exempted from Income Tax under Section 80G
ALL YOUR CONTRIBUTIONS MAY BE SENT  AS  CHEQUES / DRAFTS DRAWN IN FAVOR OF
"India Village Crusader Movement Foundation " to
0/2, Happy Homes,
17 (25), Balfour Road,
P.B. No.1060, Chennai – 10
  FOR DIRECT TRANSFER TO THE BANK ACCOUNT
FROM INDIA: 
INDIAN BANK, KELLYS (756), CHENNAI 600 010
SB A/C NO:  954975697
IFSC CODE: IDIB000K071
SWIFT CODE:
MICR CODE:
 TAX  EXEMPTED  UNDER 80 G
FROM OUTSIDE INDIA:
CHEQUES/ DRAFTS IN FAVOR OF
"India Village Crusader Movement"
PUNJAB NATIONAL BANK, TAYLORS ROAD, CHENNAI- 600 010.
SB A/C NO: 1092000100812071
IFSC CODE:  PUNB0109200
SWIFT CODE: PUNBINBBMFE
MICR CODE: